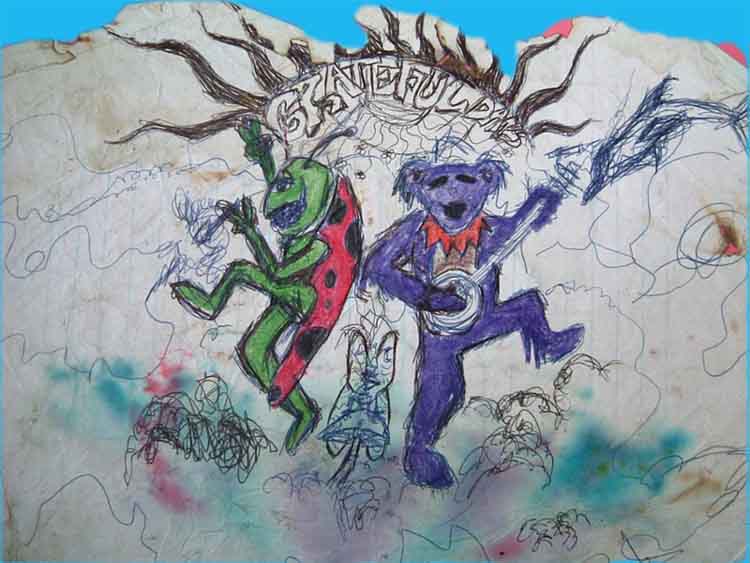 Tongari in Hiragana
Taichi
Hiroto Taichi
Handmade hat
I love surfing.
I don't like pain and danger, though...
When I play surfin, skateboad and snowboad, I'm not thinking about any scared. However sometimes it's quite danderous.
I've traveled for one and half year from Canada to Panama by car!!! It was amazing experiance.
I want to try to play jembe, digilidoo and to live in nature and ... so many things I wanna do!
Tongari in Katakana
Kiyoka
Kiyoka Matsuki
natural accessory and other staff
I like painting, to play instruments, reading.
I want to try bodypainting by hena and to make hose with solor system.
I'd like to live with dog, cat, ghoat and sheep.
From August 2005, I am going to travel to find land.
Who has his own land, please cantact to me!
Both of us had kept travelinga to join Rainbow Gathering from Canad to Costa Rica by myself. We have passed Canada USA, Mexico, Guatemala, Salvedor, Honduras, Nicaragua and Costa Rica, We met at rainbow gathering in Costa Rica. Till that time, we had never known each other.And then, we lived in jungle in Costa Rica for 3 month with horses, gallos, monkey, tons of insects. After that, we have kept traveling and passed many many borders, and till now we live and make hats together. We wrote more detailed our traveling story in Traveling and Picture. Please see it too!